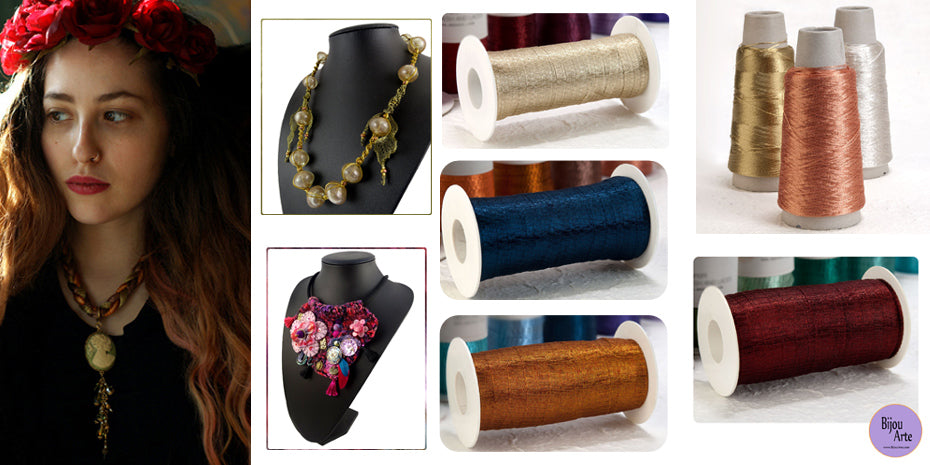 Italian Wire Mesh Ribbons
What is it? Metallic lace ribbon, tubular mesh beading ribbon, wire ribbon, tubular metallic mesh ribbon, brass mesh ribbon… Known by many names, this product is very popular with jewelry designers, crafters and costume designers throughout the world and is quickly becoming a must for creative-minded people everywhere.
The 1mm, 6mm and 20mm wire mesh ribbon made in Italy is woven from brass, copper and/or aluminum and is coated in enamel and lacquered to prevent color change. It is water proof, heat resistant and nickel free. It has a light, fabric-like texture and is comfortable to wear against one's neck. Unlike heavier textured products made elsewhere, the Italian wire mesh ribbon that we carry does not feel scratchy against the skin. It can be used as a ribbon to support a pendant, as a tube with beads or other cords carefully inserted inside it or it can be fluffed out to nearly 3 times its original size, creating beautiful ruffles, swirls and waves which are especially useful in costume design.
This amazingly versatile product can be twisted, knotted and pulled into just about any shape. Weave wire into it, attach crystals, sew beads onto it… you can even needle-felt it with yarn! Think of the possibilities for scrap booking, card making, Cosplay costumes, polymer clay projects (bake it right in!)… The possibilities are truly endless!
Featured

Price, low to high

Price, high to low

Alphabetically, A-Z

Alphabetically, Z-A

Date, old to new

Date, new to old

Best Selling