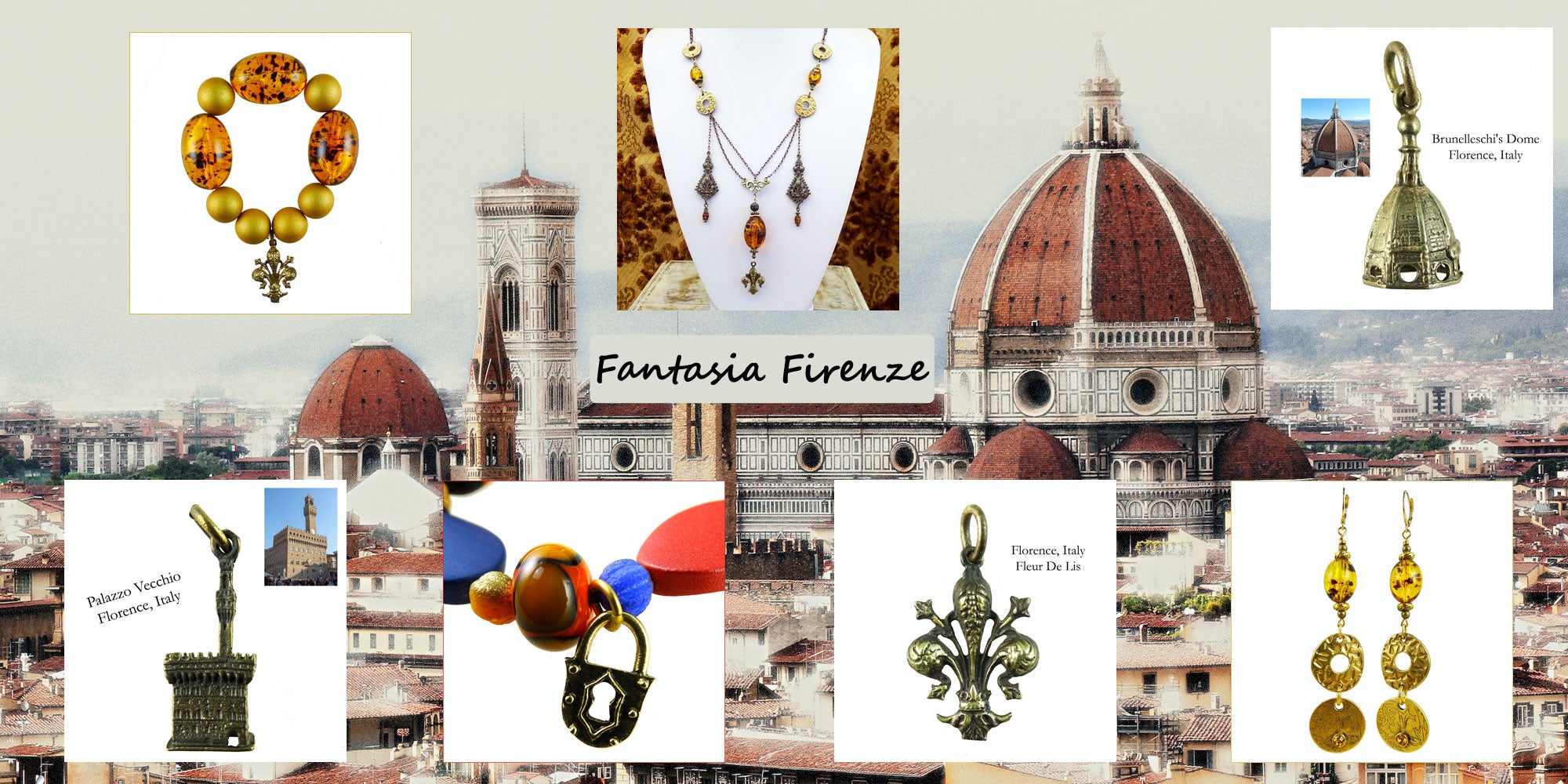 Fantasia Firenze
One of the things I love about Florence, is that the two particular historical periods which happen to be my personal favorites, The Italian Renaissance and The Art Nouveau periods are heavily featured in much of the city's overall design and architecture. In Italy, the Renaissance period is known as il Rinascimento, and the Art Nouveau period is known as Stile Libertà.

Our new jewelry line Fantasia Firenze strives to be a fusion of both of these influential periods... By combining design elements, materials, color ways and craftsmanship with the overall sensibility of "forging ahead creatively" that both the Renaissance and the Art Nouveau periods so perfectly embodied...All of this inspired by the art, icons, history and monuments of a thriving city that the whole world continues to love and cherish to this day.
The pieces in our Fantasia Firenze collection are limited editions or one-of-a-kind. Many of the components that make up the pieces were made in Florence, specifically, or, in other parts of Italy. All of the finished jewelry pieces themselves were designed and created in our Tuscan studio.
The Fantasia Firenze charm collection was designed and hand-cast in Florence by seasoned local artisans. They are made of solid brass, that is then plated in sterling silver or gold, and then antiqued and polished by hand. They are all 3-dimensional charms, not stampings, so you don't have to worry about them "flipping" and becoming backwards, when you wear them.
Be sure to click on the individual product pages for a detailed description of the materials used to create each piece in the collection. Custom design work is always welcomed and encouraged... So, if you'd like me to design a piece especially for you or a loved one, let's talk! And, as always, thanks for your interest. I hope that you enjoy wearing this inspired new collection, as much as I did creating it.
Viva il Rinascimento! 

-Lily Morda
Tuscany, September 2022
Featured

Price, low to high

Price, high to low

Alphabetically, A-Z

Alphabetically, Z-A

Date, old to new

Date, new to old

Best Selling